Battery tenders are designed to charge different batteries without overcharging or other damage. These are mainly used for vehicles and other heavy machinery batteries. Here comes the question, why do you need a battery tender? There are certain situations where we don't use our cars, bikes, boats, or lawnmowers for an extended period. It can degrade batteries over time, So to overcome this problem, battery tenders are used. These are also called battery charger maintainers.
And it is highly recommended to buy a good quality car battery maintainer if you have vehicles or any heavy machinery. Recently, battery tenders have been emerging more than ever, and there are tons of options in the market with different current ranges, features, and so on. We have chosen the best battery tenders in different categories you can get now in the market.
Best Battery Tender for 2023 (Guide & Reviews)
Specs:
• Input Voltage: 120 VAC
• Output Current: 0.75 Amps
• Output Voltage: 12V
• Weight: 2 lbs.
Pros:
• Compact and Lightweight
• Affordable
• Smart safety features
Cons:
• Not waterproof
check on amazon
check on ebay
If you are looking for a small battery tender to maintain your bikes battery, Battery tender junior will be your best bet for your bucks. It has 0.75-amp output, which can quickly charge motorcycles, dirt bikes, ATVs, UTVs, lawnmowers, etc. This device has a 4-step charging protection program, protecting your batteries from overcharging and damage.
Battery tender junior comes with quick connect supply cables and alligator clips. All you need to do is plug it in and connect it to your battery. You can always use it to maintain or recharge your battery anywhere. As it is a fully automatic battery tender, you have indicators for everything you need to know. It also has reverse polarity and spark protection, so if you mess up the battery terminals, it will immediately alert you.
The only drawback here is no water resistance, so keep that in mind. Overall, battery tender junior is a reliable, compact, and solid battery maintainer. And we can safely say that it is one of the best tenders for motorcycles, and we recommend every bike enthusiast to give this battery tender a try! It won't disappoint you and keeps your motorcycle's batteries amped up.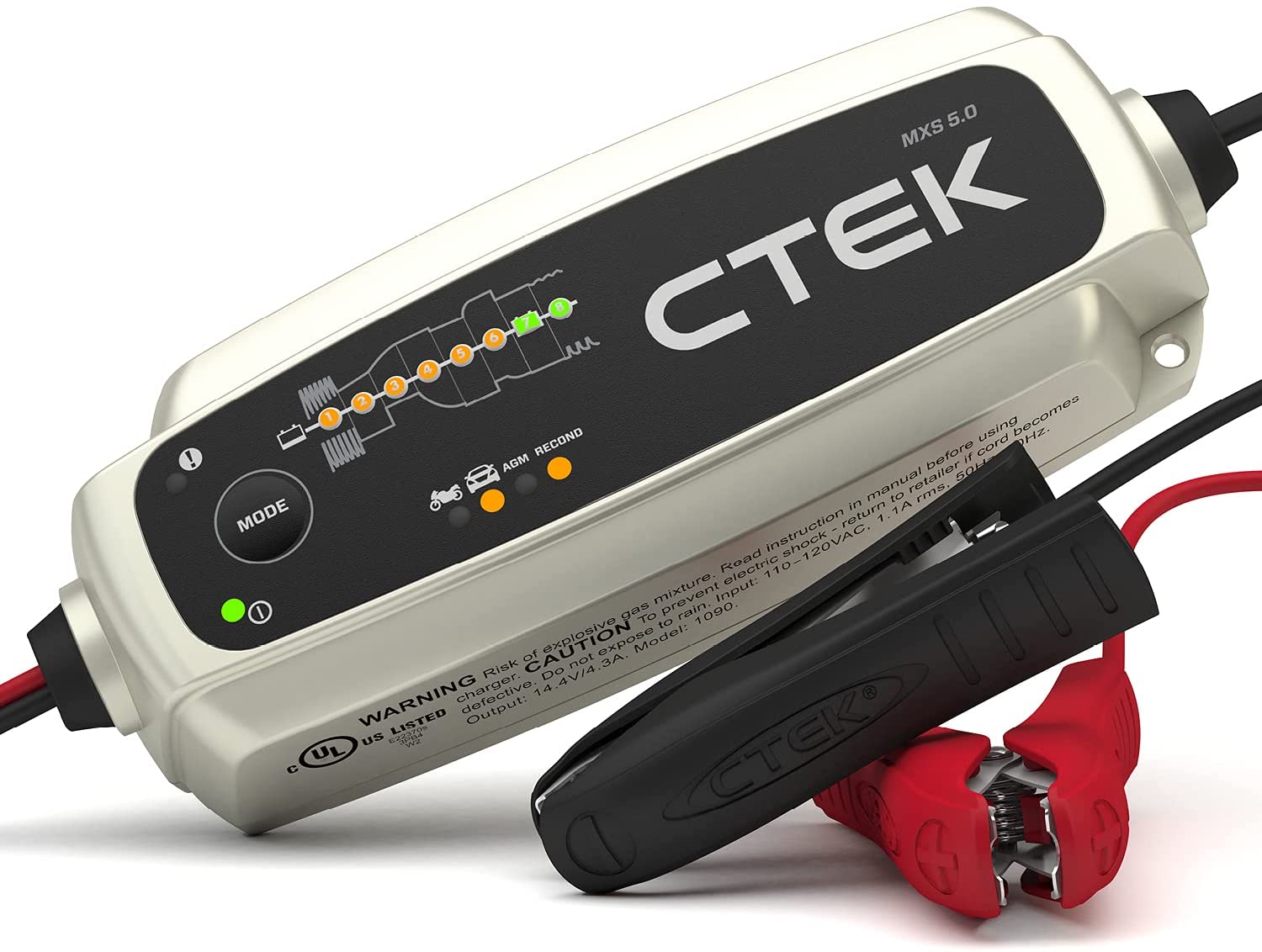 Specs:
• Input Voltage: 100-120VAC
• Output Current: 4.3 Amps
• Output Voltage: 12 V
• Weight: 1.75lbs
Pros:
• Premium build quality
• Excellent Performance
• AGM mode.
Cons:
• Sometimes overheats during prolonged use.
check on amazon
check on ebay
CTEK – 40-206 MXS 5.0 is a 4.3-ampere battery maintainer with premium build quality and advanced safety features. CTEK has made this battery tender to provide optimum performance for lead-acid batteries from 1.2-110Ah. Its advanced 8-step microprocessing technology diagnoses battery issues and conditions. It also distinguishes whether your battery can receive and retain a charge.
The patented automatic de-sulphation program reconditions the battery. And with a dedicated AGM option maximizes the performance and life of most Stop/Start batteries. It can also detect the lowest 1V voltage, which is a great feature to recharge completely drained batteries. You can get it to work with small vehicles, lawnmowers, or even tractors. That's amazing versatility! Unlike other battery chargers, it works well in all climate conditions with IP65 (splash and dustproof) insulation.
This battery maintainer comes with good quality cables, if not the best. Besides being extremely feature-rich, it is incredibly easy to use. Just plug in the battery tender, and it will recognize the battery type and have indicators for battery status. CTEK – 40-206 MXS 5.0 is an excellent steal with auto-diagnosis, safety features, and premium build quality. And all of this makes it one of the best Battery charger maintainers for auto-enthusiasts.
#3. NOCO GENIUS1 –
Best Budget-Friendly
Specs:
• Input Voltage: 100-240 VAC
• Output Current: 1A
• Output Voltage: 6V / 12V
• Weight: 0.77 lb
Pros:
• AGM Mode
• Advance battery diagnostic features
• Value for money
Cons:
• Not for automobiles
check on amazon
check on ebay
NOCO GENIUS1 is a genius choice for anyone looking for a budget-friendly yet all-rounder battery tender. NOCO has developed this battery maintainer with performance-oriented features. It has eight steps of fully automatic charging with battery diagnostic and battery protection.
NOCO Genius1 has a thermal sensor that detects the ambient temperature and alters the charge to eliminate over-charging. Talking about safety features, NOCO has provided spark-proof technology, reverse polarity, and circuit protection.
It can also automatically detect battery sulfation and desulphurate to improve battery performance. The Genius 1 is suitable for lead-acid batteries, including Wet, AGM, Gel, and 12v LiFePO4 batteries. And With a high-efficiency design, the NOCO Genius 1 is great for batteries up to 30 AH. We typically recommend the Genius 1 for those trying to maintain a motorcycle, ATV, or lawn mower battery. All these features make this an excellent value-to-money purchase for your batteries.
Specs:
• Input Voltage: 120VAC
• Output Current: 3 Amps
• Output Voltage: 6V or 12V
• Weight: 3.60Lbs
Pros:
• Powerful
• Advance battery safety features
• Selectable 6V/12V AGM Mode
Cons:
• Not waterproof
check on amazon
check on ebay
Here'sHere's another great gem by Deltran, designed for heavy-duty performance. Battery tender 3Amp is a quick and powerful battery charger maintainer equipped with patented safety and battery diagnostic features. It is a selectable 6v, 12V battery tender, And the higher 3Amp inputs provide quick charging, which makes it a perfect choice for versatile usage.
It features four steps automatic charging program that provides real-time battery status with indicators. The Battery Tender 3 AMP can fully recharge and maintain a battery at its proper storage voltage without the damaging effects caused by trickle chargers. And other features, including spark-proof connectors and reverse polarity protection, ensure the user's safety.
This battery maintainer has heat compensation and can efficiently work in all climate conditions. However, due to open vents, it is not waterproof. You can use a block of wood in case of rain. Battery tender 3 Amp comes with the latest technology for modern sealed lead-acid batteries and is also compatible with flooded or sealed AGM and gel cell batteries. This makes it the best battery tender for cars, boats, and more! It can deliver compact enough to fit anywhere in your trunk, considering the power.
FAQs:
Is It Ok To Leave A Battery Tender On All The Time?
Yes, you can let your battery tender run all the time because our ultimate goal is to keep the battery in optimal conditions. And battery tenders don't emit any charge unless the battery has dropped to less than 100 percent. Also, the modern battery charger maintainers have advanced safety features to protect the battery from overcharging.
Can I Start My Car With A Battery Tender Connected?
Yes, you can start your car with a battery tender. But don't forget it is meant to keep batteries in optimal charge status. They don't work as a jumpstarter.
Can A Battery Tender Charge A Dead Battery?
Yes, but not every time. As the battery tender needs a minimum of 1-2V to detect the polarity, if your battery is completely drained, you can expect the battery tender to charge it in 16-24 hours. However, you will need a high-capacity battery tender to ensure the battery is adequately charged.
How Long Does It Take To Charge A Battery?
It takes 6-8 hours if your battery is not completely drained.
Battery Tender Guide & Reviews