Most of us don't pay attention to car batteries until they die. This mistake leads to a troubling situation when the car runs out of energy in the middle of the road. What worst can it be? If you find yourself in a remote area with no car repair near there. Ah! That is a nightmare for every car owner.
This is where a jump starter comes to your rescue. There were times when you had to call road assistance to get a jump starter and jumper cables. But now we have some legit portable jump starters that are compact yet provide the energy jump your car needs.
We have picked the best portable jump starters considering the market. And we highly recommend to everyone to keep a battery jump starter in your car all the time. Let's look at product recommendations.
Specs:
•
Amp:
1000 amps
•
Battery:
12 Volt Lead-Acid Batteries
•
Weight:
4 lbs
•
Output:
5 V / 2.1 A USB port x1
Pros:
• Compact and lightweight design
• 1000-amp lithium battery offers 20x jump starts on a single charge
• Patented Safety Technology
Cons:
• Lacks heavy-duty V8 engine support
check on amazon
check on ebay
NOCO Boost Plus GB40 is a 12-volt battery jump starter, a portable power bank, and a 100 Lumens LED flashlight. This compact and mighty device can jump-start your car in seconds without sparking. NOCO Boost Plus GB40 is an all-rounder battery jump starter you need! It comes with 1000-amp lithium-ion built-in batteries, powerful enough to get the dead batteries back to life.
NOCO Boost Plus GB40 also checks all the safety features, which is mandatory to look for while choosing a portable jump starter. It features an insulated body design with reverse polarity protection, allowing you to connect it to any battery without sparking.
Another neat safety feature is the wrong terminal connection indicator, so you don't have to worry about mistaking the terminal sides. It is designed for gasoline engines up to 6L and diesel engines up to 3L for cars, boats, and more.
NOCO Boost Plus GB40 is the perfect choice for everyone. Whether you are new to using jump starters or a car pro, it will not disappoint you and provide a hassle-free and safe jump-starting experience. All these nifty features make this a value-to-money purchase for your garage.
Specs:
•
Amp:
1700 amps
•
Battery:
12V Lead-Acid, AGM
•
Weight:
23 lbs
•
Output:
1A and 2.1A USB port x2
Pros:
• Heavy-duty 1700amps performance
• Value for money
• Professional Grade Build Quality
Cons:
• No reverse polarity detection
check on amazon
check on ebay
The Clore Jump-N-Carry JNC770B battery is specifically developed to perform jump-starting of all types of vehicles. Clore Jump-N-Carry is a reliable brand for tow truck drivers, auto mechanics, rescue vehicles, and anyone looking for a high-quality jump starter. It uses Clore PROFORMER battery technology to provide mighty 1700 peak amps power through heavy-duty cables.
The Clore PROFORMER battery is enclosed in a heavy-duty case to withstand the rigidity and provide long service life. There is also a handle, which helps in portability. Although this jump starter is a bit bulkier than others, it is small enough to store in the trunk of your car.
It features a dual-light LED charge indicator and a voltmeter that indicates the onboard battery's charge status. And the 12V DC plug-in with a built-In 3 Amp automatic charging system makes recharging your unit fast and hassle-free. And Dual USB ports (1.1A and 2.1A) provide charging to electronic devices.
Overall, if you are a professional or travel a lot, you must invest in a premium portable jump starter. And Clore Jump-N-Carry JNC770B is the best you can get for all your batteries.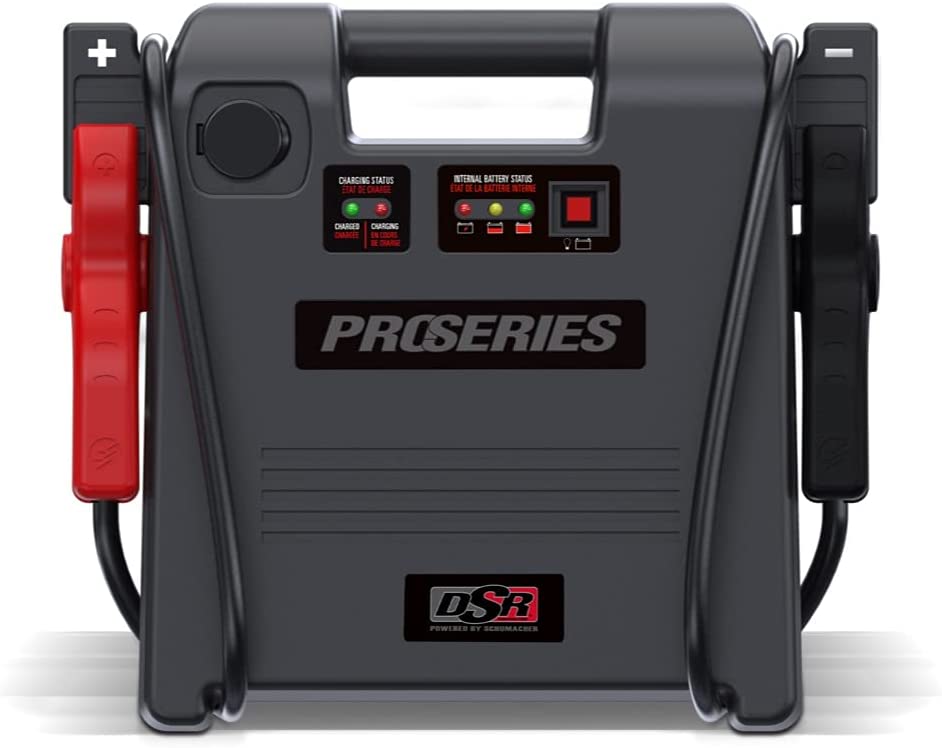 Specs:
•
Amp:
1800 Amps
•
Battery:
12V
•
Weight:
59 lbs
•
Output:
12V power outlet x 1
Pros:
• Compelling Performance
• 12V DC outlet
• Automatic Built-in Charging
Cons:
• No LEDs
check on amazon
check on ebay
Schumacher DSR119 Pro is a no-brainer, one of the most powerful portable jump starters you can find on the market. Schumacher has manufactured this jump starter specifically for all types of engines. It has 1800 peak amp capacity, which can restart any vehicle's battery. And with a 12V DC outlet, you can power electronic devices as well.
DSR119 Pro comes with a heavy-duty jump starter cable and a hook-up safeguard alarm that detects if battery clams are not connected properly. It may not have multifunctional features like a digital display, led lights, or other accessories you may get on other jump starters.
It is made only to serve the powerful cranking of batteries. If you have any large vehicles, like trucks, buses, or SUVs, or need one powerful jump starter to cover multiple cars in any case, then the Schumacher DSR119 Pro must be your priority.
Schumacher DSR119 Pro is designed for professional usage and features a rugged design. Having such mighty power and professional-grade construction, it weighs 19.59 lb. It is relatively heavy, but the form factor is good enough to fit any vehicle's trunk and makes it one of the best portable jump starters.
Specs:
•
Amp:
700 amps
•
Battery:
9V
•
Weight
: 2.5 lbs
•
Output:
5 V / 2.1 A USB port x2
Pros:
• Lightweight and Compact
• Dual USB Port outlet
• High-Capacity 15,000 mAh Lithium-ion Battery
Cons:
• Not recommended for Cold Weather
check on amazon
check on ebay
If you have a small vehicle, you don't need to buy a hefty jump starter. This tiny guy can produce instant 700 peak Amps, which is the perfect amount you might need. Scosche PBJ700-1 is the best portable jump starter for small vehicles like cars up to ten cylinders and bikes. And with High-Capacity 15,000 mAh Lithium-ion Battery, it holds the charge for up to 12 months.
Scosche has not compromised quality in any way. Scosche PBJ700-1 comes with jump starter cables in the box. The quality of wires and clams is remarkable. It has a rugged yet sleek design with dual USB-powered outlets and an ultra-bright LED flashlight. Scosche PBJ700-1 has Spark-Free, 6-Point Safety Protection to protect both jump starter and vehicle from damage.
As it is not a heavy-duty jump starter, there is a valid drawback with this Scosche PBJ700-1. It struggles in cold temperatures. Hence in weather where temperatures are below freezing point, this small guy may not be able to jump up the dead battery. However, it can still amp up the struggling battery. If you don't live in cold areas, it is a perfect choice for a portable jump starter.
FAQs
Can a Jump Starter Start a Dead Battery?
Yes, because batteries can never be too dead to not get a jump start due to the chemical reactions involved. However, one should never try to jumpstart a damaged battery. It can lead to an explosion.
How Many Amps Should a Portable Jump Starter have?
400 to 600 are the minimum amps required for a jump starter. However, we recommend buying a jump starter with a minimum of 700 amps or higher for optimal performance.
How Long Should You Drive After Jumping a Car?
After jumping a car, you must let it run for at least 30 minutes. It will allow the battery to get charged.
Do I Turn My Car Off Before Removing Jumper Cables?
No, you can remove the cable carefully while the car is on.
Jump Starter / Portable Jump Starter Guide & Reviews